Podcast: Play in new window | Download (Duration: 1:20:42 — 147.8MB)
Subscribe: Apple Podcasts | Spotify |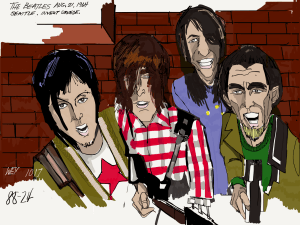 In this special episode, Robert and Richard explore the possible connections between the Beatles and later generations of artists, whether influenced by or reacting to. Also: an exclusive interview with producer/musician Butch Vig (Nirvana – Smashing Pumpkins – Garbage), offering insights into Nirvana's particular fascination and latter-day collaboration.  
Songs include "And I Love Her" and "Cut Me Some Slack."
June 2016 has arrived. Six months is plenty long to be looking at the calendar you started out the year with, so why not swap it out for the Something About The Beatles 2016 calendar? It features hundreds of Beatles history dates and 24 full color original illustrations. Get one of the last remaining copies here, specially priced!