Podcast: Play in new window | Download (Duration: 1:47:51 — 197.5MB)
Subscribe: Apple Podcasts | Spotify |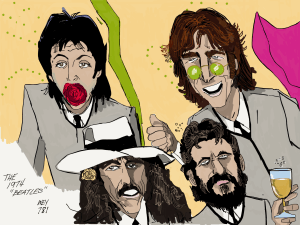 In this episode, Richard and Robert provide an overview of their greatest post-break-up year: the music – the collaborations – the possibilities. Includes a special segment from our guest, Bob Ward.
Songs include "You're Sixteen" and "Junior's Farm."
Check out this detailed 1974 timeline here.
June 2016 has arrived. Six months is plenty long to be looking at the calendar you started out the year with, so why not swap it out for the Something About The Beatles 2016 calendar? It features hundreds of Beatles history dates and 24 full color original illustrations. Get one of the last remaining copies here, specially priced!