Podcast: Play in new window | Download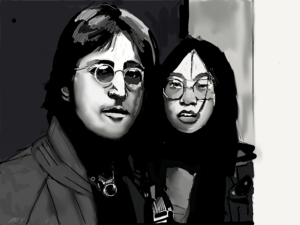 "The Lost Weekend" was the handle John implemented (picked up by subsequent narrators) to describe the period of his separation from Yoko, during which time a romantic relationship began with his 22 year-old personal assistant, May Pang. Once the couple reconciled, May's impact on his life was swept under the rug in all sanctioned tellings, in the service of a narrative propping up the John and Yoko love story as the ultimate double fantasy: literally describing themselves as Robert and Elizabeth Barrett Browning incarnate.
Others beg to differ and among them is May herself. Her story was told twice in book form (Loving John and Instamatic Karma) but now a new documentary film chronicles their time together on the big screen, supported by other witnesses and loads of photos, footage and writings. The Lost Weekend: A Love Story is coming to theaters, while an exhibit of May's photos has already hit the road across the US.