Aug 26, 2019
[powerpress]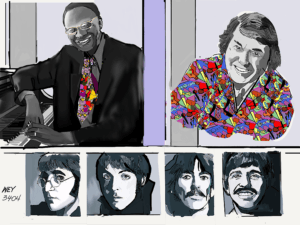 An area heretofore unexplored on SATB is jazz: specifically,
which artists took raw material from The Beatles and took it in a
new direction. It is our good fortune to have within reach a true
legend of the idiom: Ramsey
Lewis, a multi-Grammy-winning keyboardist whose work spans
decades and genres. In late 1968 – mere weeks after The Beatles'
"White Album" was released – Ramsey issued a 10-song collection
drawing from the Beatles' fresh work. Mother Nature's
Son was hailed as a classic,
with bold re-imaginings of songs familiar to us fans – but not like
this. His reading of "Julia" became a standard in his repertoire,
alongside his well-known hit take on "The 'In' Crowd."
Ramsey hosted a jazz show for years on radio, so he is
well-familiar with the sonic landscape. But joining us to shed
further light is a friend to both me and to Ramsey, going back
years: Radio
Hall of Fame deejay Terri Hemmert. In addition to spinning
records on WXRT since the 1970s until announcing her retirement
this year, she also hosted a jazz program for many years (and many
of you know her as the MC in Chicago at The Fest for Beatles Fans).
Together, listen to these two explore the intersection between
Beatles and jazz.
Artists heard in this show:
The Beatles – Ramsey Lewis Trio – Ella Fitzgerald
– Count Basie – Duke Ellington – Louis Armstrong – Wes
Montgomery – Ramsey Lewis – Esther Phillips – Vince Guaraldi Trio –
George Benson – Earth, Wind and Fire – Paul McCartney – Rahsaan
Roland Kirk – Fats Domino – John Scofield – Danger Mouse